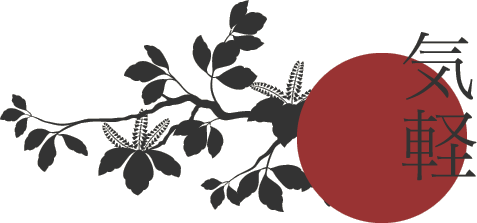 Bathing Facilities
Hot Springs for Day Visitors
With the largest amount of natural flowing hot spring water in Japan,
there are a lot of conveniently located hot spring facilities in Kusatsu.
Try the famous awase-yu and large outdoor baths during your visit.
大滝乃湯
Otaki-no-yu
People stand in line for an hour before this popular bathhouse opens. You can try all sorts of bathing methods in various baths including a huge outdoor bath complete with a waterfall, a sauna and a series of tubs with water of increasing temperatures.
Fully equipped with a cafe, restaurant and common lounges (free and charged)
* 6 min. walk from Yubatake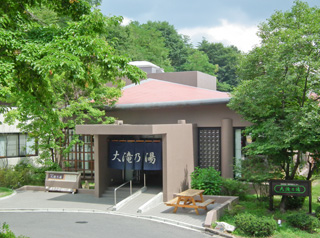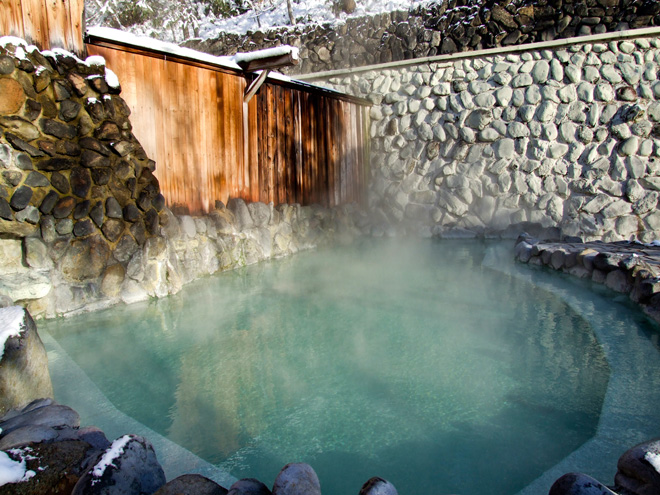 Hours
9 am - 9 pm (No admission after 8 pm)
Rates
Adults: 800 yen; Children: 400 yen
Towels available for sale/rent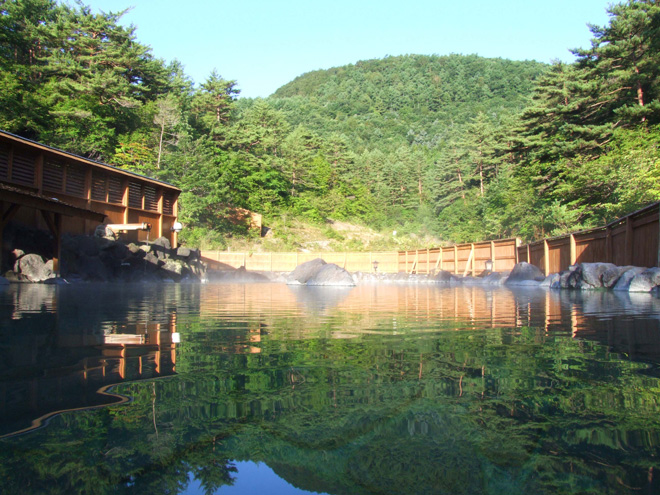 西の河原露天風呂
Sai-no-Kawara Outdoor Bath
This, the largest outdoor bath in Kusatsu, is complemented by its rustic atmosphere. The 434m² bath is so large that water temperature variation naturally occurs. More than 100 people can soak comfortably at the same time. Also, the women's bath is protected allowing them to bath outdoors at ease.
* 13 min. walk from Yubatake
Hours
9 am - 8 pm
(Hours vary with the seasons. Call for details.)
Rates
Adults: 500 yen; Children: 300 yen
Towels are available for a small fee
テルメテルメ
Therme Therme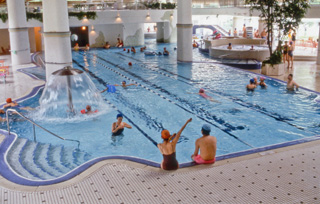 A comprehensive spa facility located in the highlands with various kinds of baths and an indoor swimming pool.
Beauty treatment (by appointment only) and Jikan-yu are also available.
Rental swimwear is available for a small fee.
* 15 min. walk from Yubatake
Hours
11 am - 8 pm
*Closed several days in Apr. and Dec.
Rates
Adults: 1,340 yen (weekdays), 1,770 yen (weekends & holidays)
Children (7 to 12) 970 yen (weekdays), 1,290 yen (weekends & holidays)
Toddlers (3 to 6): 750 yen (weekdays), 1,080 yen (weekends & holidays)
草津温泉館
Kusatsu Onsen Center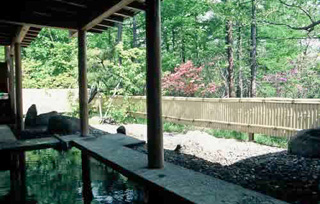 Enjoy fresh air bathing with a Japanese white birch grove right before your eyes. The center houses a total of six unique baths that include a cave bath, a jacuzzi and an ultra-infrared sauna. Visitors can also spend time in a relaxation room and pub.
* 15 min. walk from Yubatake
Hours
10:30 am - 7 pm
(No admission after 6 pm)
Daily (Closes a few days in Apr. and Dec. for maintenance)
Rates
Adults: 800 yen; Children: 400 yen
御座之湯
Goza-no-yu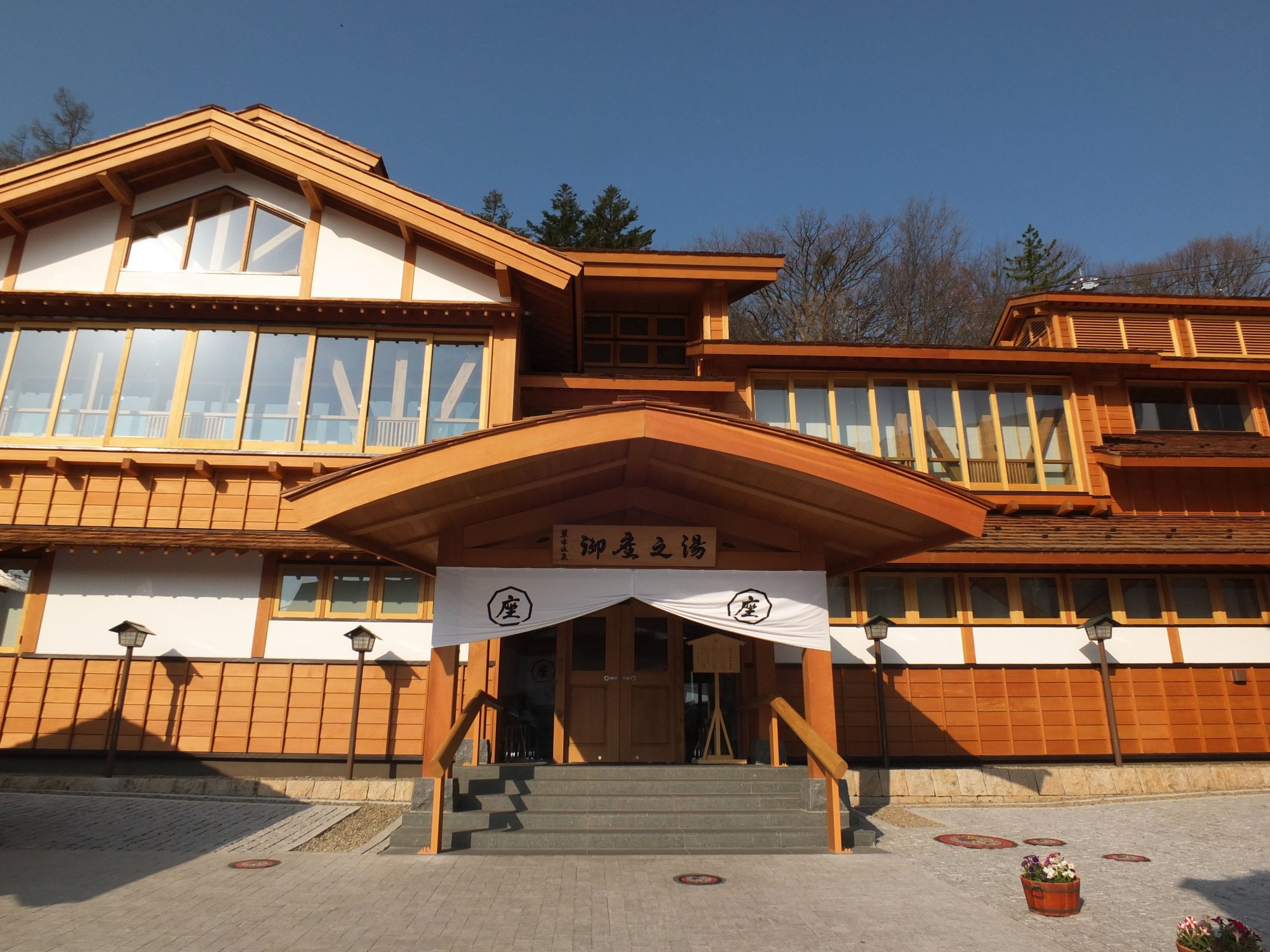 You can enjoy two different flow from two different source of the Hot Spring, which is famous around hot spring visitors during Edo and Meiji periods as Kusatsu Goyū(named: Goza-no-Yu, Taki-no-Yu, Washi-no-Yu, Wata-no-Yu, Kakke-no-Yu). By reconstucting the Goza-no-Yu, rich source of hot spring stream quantity has now become Kusatsu's famous [Yubatake] and [Bandai], which you can enjoy now in one single bathing room.
※Grand Open at 25th April 2013
Hours
7:00 am - 9 pm
(Last entry at 8:30p.m.)
everyday
Rates
Adults: 500 yen; Children: 300 yen

Using Big Hall(Free of charge)

Using Medium Hall(1 Hour and 20 mins, Bath time excepted)
Bath entrance fees + per Adult 1000 Yen, Children 450 Yen
※Tea, tea biscuits, and Yukata renting(Free of charge) is available when using Medium Hall.
Foot Bath
湯けむり亭・湯畑前 利用自由
Yu-kemuri Tei (Hot Spring Steam Footbath)
* in front of Yubatake (free, unlimited access)
Here in a relaxed atmosphere, visitors can make new friends while soaking their feet in hot spring waters.
This is a water basin located near Yubatake at which visitors can experience Kusatsu's fresh, pure hot spring water.
By soaking your hands or feet for just a few minutes in the water, you'll be able to feel the therapeutic effects due to the water's high acidity.
Built in a traditional thatched cottage style with cypress wood, Yu-kemuri Tei is a replica of the Matsu-no-yu public bathhouse that stood at the same location during the Edo Period.
We promise everyone a traditional onsen experience here by just feeling or soaking their feet in the hot spring water from Yubatake next door, which has flown into the basin.
(Reopened in February 2010 after renovations)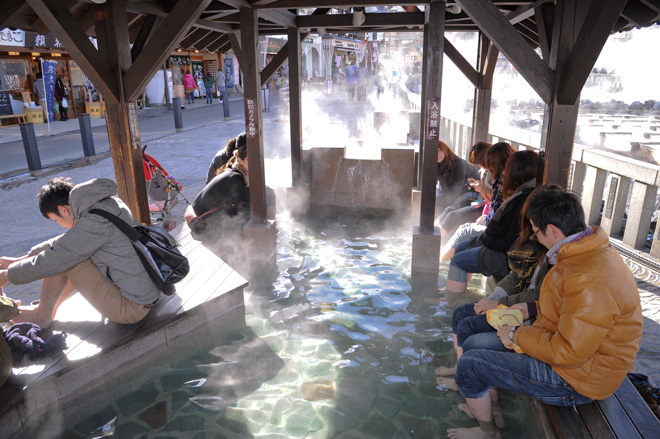 Public Bathhouses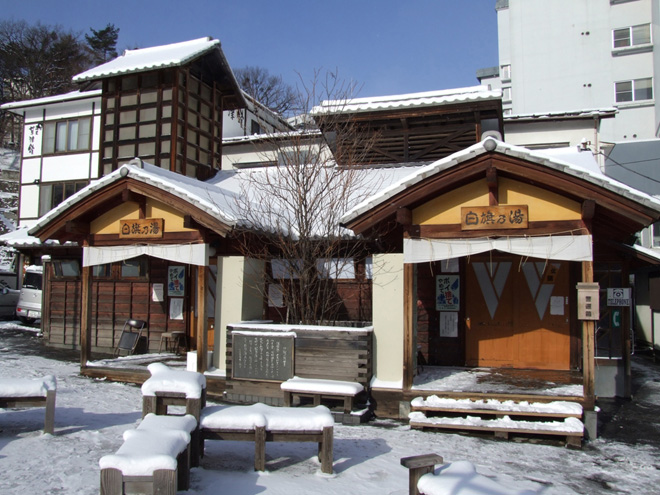 Kusatsu has 18 public bathhouses that local residents use on a daily basis. Of them, three bathhouses- Shirahata-no-yu, Chiyo-no-yu and Jizo-no-yu - are officially open to visitors. At them, visitors can bathe with the locals and enjoy the atmosphere of Kusatsu that differs from the baths found at the town's Japanese style inns and hotels. However, visitors are asked to be considerate of the locals and observe proper bathing manners.
Please observe bathing etiquette!!
Follow designated times

Visitors are allowed to bathe at public bathhouses during designated times only. Please refrain from bathing during hours reserved for local residents. Call each bathhouse in advance for details.

No bathing permitted during cleaning hours

Share the hot water

As public bathhouses are mainly intended for the daily use for local residents, please be sure to be considerate of them.

Concerning jikan-yu

As the Chiyo-no-yu and Jizo-no-yu bathhouses employ the traditional jikan-yu method of timed contact with the hot water, please follow the bathhouse leader's instructions.
Rental Baths
Rental baths are hot spring baths that can be rented for personal use for a specific period of time. They are perfect for families and groups and for persons not used to the custom of bathing naked in front of others. Most rental baths are available for a fee. However, please be advised that some inns do not offer rental bath services.